New York Eye Doctor
Dr. Susan Yorks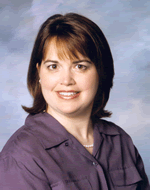 Eye doctor Susan Yorks was born and raised in Canandaigua New York. She graduated summa cum laude from Hartwick College with a BS in chemistry. In 1991, eye doctor, Susan Yorks received her degree in Optometry from the New England College of Optometry in Boston, MA. While attending Optometry School Dr. Yorks was a member of VOSH (Volunteer Optometric Services to Humanity) and attended a VOSH mission to Venezuela.
Following graduation Dr. Yorks accepted a position at Oak Orchard Community Health Center in Brockport. In 1994 she was recruited by eye doctor Allan Robbins in his capacity as CEO of Genesee Valley Eye Institute. In this capacity she assisted Dr. Robbins in the VISX clinical trials for the excimer laser. When Dr. Robbins left GVEI in 1997, Dr. Yorks joined the staff of Robbins Eye Associates and later Robbins Laser Site.
Dr. Yorks has over 8 years of experience in the highly specialized field of refractive surgery. Dr. Yorks professional affiliations include: The American Optometric Society, the New York State Optometric Society, the Rochester Optometric Society and the Petry Lomb Scholarship Foundation.
Contact Information
Visit Us: Spring Pines Office Complex | Suite 400
Address: 1678 Empire Boulevard | Webster, New York 14580
Call Us: (585) 787-2020 | Fax: (585) 787-2066
Email Us: