New York VISX Lasik Surgeon
Lasik
Dr. Robbins was one of the U.S. physicians chosen by VISX to assist in the early clinical trials for the excimer laser. Initial protocols called for surface treatment of the eye with the laser in a procedure known as PRK. The outermost cells of the cornea are constantly being regenerated and replaced, much like our outer skin. For any laser refractive procedure to have a permanent effect, the treatment must be applied beneath the outer skin of the eye. PRK involved the mechanical removal of this outer skin (epithelium). This outer layer then regenerated over a period of weeks to months.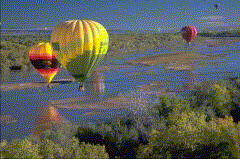 Despite the very good results achieved with PRK, physicians and patients were dissatisfied with the relatively slow visual recovery and initial discomfort. An additional problem was the development of corneal haze, particularly in individuals with stronger prescriptions. Corneal haze developed in a small percentage of cases (1-2%) and could potentially result in a loss of Best Corrected Visual Acuity (BCVA).
In contrast, LASIK requires the surgeon to create a superficial flap composed of the outer cells of the eye (epithelium) along with some of the underlying tissue (stroma). This flap is created with a device called a microkeratome. The flap is left attached to the eye with a hinge placed either nasally or superiorly. In most instances the flap is 160 microns in thickness. The flap must be of uniform thickness and an appropriate size for the desired treatment. By preserving the outer skin of the eye LASIK patients experience less discomfort and a quicker visual recovery. The incidence of haze or scarring is dramatically lower with LASIK. At the end of the procedure the outer skin is placed back over the treatment area. It is extremely important that this outer skin layer be placed back on to its original position without folds or striae. Any irregularity of the outer corneal surface can result in a loss of BCVA.
IN 1997 Dr. Robbins was one of the first surgeons in Upstate NY to offer the LASIK option . At that point in time, LASIK was an "Off-label" use of the excimer laser. Initially this procedure was recommended for individuals with stronger prescriptions who were at higher risk for developing haze following PRK. As the technology improved and the superiority of the procedure over PRK became evident, the indication for LASIK was broadened to include most refractive errors. Currently the LADARVISION system has received FDA approval for LASIK treatment of nearsightedness, farsightedness and astigmatism.
Contact Information
Visit Us: Spring Pines Office Complex | Suite 400
Address: 1678 Empire Boulevard | Webster, New York 14580
Call Us: (585) 787-2020 | Fax: (585) 787-2066
Email Us: